Magical Garden Windmill Wind Spinner with Metal Garden Decorative Stake Sculptures Move with The Wind Wind Powered Catcher
£34.95
Magical Garden Windmill Wind Spinner with Metal Garden Decorative Stake Sculptures Move with The Wind Powered Catcher
• Special & Unique Design : The perfect garden decoration windmill
* Each blade of this windmill is designed to rotate in different directions. The ball bearing structure allows our wind catcher to quietly spin even in the slightest breeze.
* Eighteen balanced wings : rotating in the wind around a circular axe with a maximum recommended wind speed of 95mph.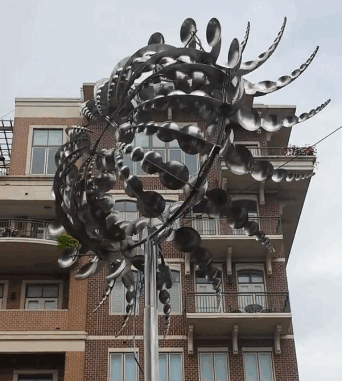 • LIGHT UP YOU GARDEN WITH SEASONAL COLOR AND IMPRESS YOUR NEIGHBORS : Easily admired and seen by passers-by but not intrustive to neighbors. Relaxing and satisfying to watch while spending time out and chilling on the sun porch or yard. It would look amazing in any garden.
• STURDY,STABLE WITH MODERN FUNCTIONALITY & ANTIQUE CHARM: Many wind spinners outdoor come with a single blade that spins in one direction that look boring. Our metal garden windmill has a solid metallic construction with dual wind motion. The two tiers blades smoothly rotate in opposite directions on sealed bearings.
• Easy to Install : This garden windmill is easy to assemble and no additional wiring, just simply position it in a sunny location with the metal stake and enjoy your garden ornament.
• Weather Resistant : Our kinetic metal wind spinner adopts multi-color brushed coating finish and stable piles at the base, which can withstand all weather, is strong and durable, and can be used in windy days.
• High Quality Material : Our wind spinner has a solid metal structure with dual wind movement. The two-layer blades rotate smoothly in opposite directions on the sealed bearing. Our durable yard wind spinner has modern functions and contemporary charm.